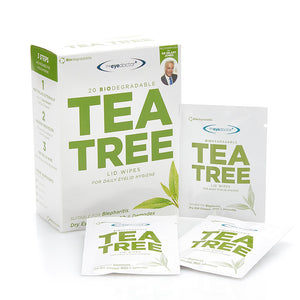 The Eye Doctor Tea Tree Oil Lid Wipes are 100% Biodegradable and consist of a unique and effective formula designed to clean your eyelids at home or on the go, an ideal partner in daily eyelid hygiene.
Suitable for:
MGD, Blepharitis, Dry Eye Disease & Demodex
Unique ingredients include:
TEA TREE OIL – natural antibacterial properties, controls natural oil levels on the skin and cleans excess sebum in the eyelids.
ARGAN OIL - Skin conditioning properties, high vitamin E and fatty acid content, an ideal ingredient to give skin a natural boost.
MICELLAR WATER - Cleanser & make-up remover, gentle & hydrating.
COCONUT OIL - A skin conditioning ingredient soothing to the skin with anti-bacterial properties.
Customer Reviews
05/28/2021
Julie S.

United States
5 star Tea Tree Lid Wipes
These lid wipes are the best I have used...If you have really sensitive eyes this is your best option...I have tried so many over the last 4 years and they are very soft and hydrating and the customer service is just as outstanding! 10 stars in my opinion ...if the rate scale would go that high! Thank you for a superior product!