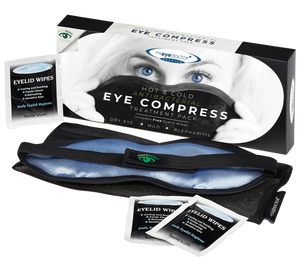 This is your ideal partner for relieving a range of eye conditions & complications naturally such as Dry Eye Disease (DED), Blepharitis and Meibomian Gland Dysfunction (MGD).
The Eye Doctor Premium Moist Heat Compress is filled with patented self hydrating beads. 
The Eye Doctor Premium is designed to be heated in the microwave for 25 seconds, offering a simple and effective treatment to help relieve symptoms such as grittiness, irritation and sore eyes.  
Sterileyes® Antibacterial Protection
Removable Washable Cover
Moist Heat & Cold Treatment
Designed for Any Shape Face
Oven / Microwave / Freezer
Adjustable Comfort Strap
Includes Storage Pouch & Lid Wipes