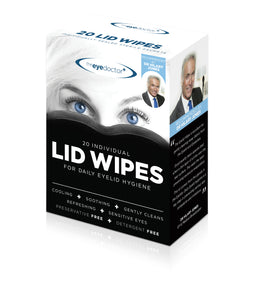 The Eyelid Wipes are pre-soaked with preservative and detergent free physiological solutions for daily eyelid hygiene.
The Eyelid Wipes are excellent for gently cleaning away debris from the eyelid and eye lashes after using your hot eye compress.
The Eyelid Wipes should be used on a daily basis as part of your eyelid hygiene regime.
Customer Reviews
11/11/2020
Monika T.
United States
great eye lid wipes
My eye doctor suggested I buy The Eye Doctor mask so I did and it came with a few free wipes. Both products are wonderful. I love the wipes so much I decided to buy more of them. I use them once, sometimes twice, a day. The only thing I don't like is the shipping cost. Overall, I am happy with the purchase.