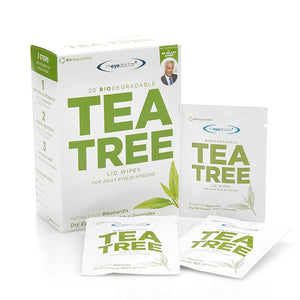 The Eye Doctor Tea Tree Oil Lid Wipes are 100% Biodegradable and consist of a unique and effective formula designed to clean your eyelids at home or on the go, an ideal partner in daily eyelid hygiene.

Suitable for:
MGD, Blepharitis, Dry Eye Disease & Demodex

Unique ingredients include:
TEA TREE OIL – natural antibacterial properties, controls natural oil levels on the skin and cleans excess sebum in the eyelids.
ARGAN OIL - Skin conditioning properties, high vitamin E and fatty acid content, an ideal ingredient to give skin a natural boost.
MICELLAR WATER - Cleanser & make-up remover, gentle & hydrating.
COCONUT OIL - A skin conditioning ingredient soothing to the skin with anti-bacterial properties.